The Audience in Hanoi—Where Have the Intellectuals Gone?
―You've presented your own pieces in both Hanoi and Europe. Are the audience's reactions different in each country or region?
Tran: Yes, they are totally different. First of all, my works are presented more overseas than in Vietnam. I need to raise funds myself to present works in Hanoi; there are neither organizations that commission new works, nor festivals that invite me.
In Vietnam, the community of contemporary music is very small. You can hardly call it professional and there really is no community of experts. However, although small in scale, the community of audience does exist, and they are interested in something new. The Vietnamese, especially the large youth population, are a very curious bunch. To be open to the new can be both good and bad. To be curious may mean the lack of endurance and long-standing interest, so people may easily quit and move onto their next interests.
This is one of the reasons, in Vietnam, the contemporary music community does not flourish further. At first, there was a small community of foreigners living in Vietnam, to which, later, the local people, especially young population, gradually joined. However, they were not necessarily intellectuals. In Vietnam, intellectuals are strictly divided into genres such as literature, music, photography, and theater, and there is no exchange between those genres; there is no common platform for them to engage in dialogue. Ironically, that was not the situation prior to Doi Moi: all the intellectuals in the country were unified because there was a strong government backup.
However, they are now more detached due to several causes, two of which are government subsidy cuts and the heavy pressure to earn money in the current of economic liberalism leading people and organizations to tap into the entertainment business. We are now in an age where all that is unprofitable are left to disappear. All kinds of organizations, even mainstream performing arts institutions, are struggling for survival, and the intellectuals and musicians have no choice but to take part in entertainment shows simply to raise their children. Therefore, the communities of intellectuals have disbanded and they are practically non-existent now. I really wonder, where have the intellectuals gone. Many of the long-established events that they were involved in disappeared, and newer platforms, such as Performing Arts Meeting in Yokohama (TPAM), haven't been established yet in Vietnam. There is no meeting point for us; no place for the arts intellectuals to come together.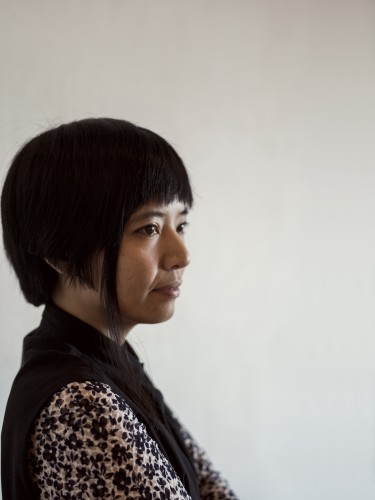 Photo: Naoaki Yamamoto
The Hanoi New Music Festival
―Is that why you place importance on the interdisciplinary activities for DomDom?
Tran: For DomDom to be interdisciplinary is my dream, but unfortunately, I haven't materialized it yet. In 2013, in DomDom's second year, I started the Hanoi New Music Festival. I wanted to create a place for different musicians to meet, learn, and discuss about each other's works. We organized conferences and round table discussions too, but it turned to be just another music event. For the next edition in 2017, I want to develop the audience-base; that is another dream of mine. I want people from other backgrounds to discover new music and want to organize a large-scale conference for discussing issues that extend the boundaries of each discipline, such as arts or cultural policy. But I need a large amount of funding for that.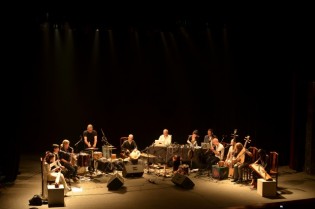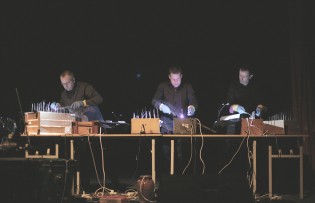 Hanoi New Music Festival
Tran: Another interdisciplinary aspect of our festival is the presentation of artworks that involve the linguistic, the visual, and the physical body. We not only organize concert programs where musicians simply play pieces on stage but also music theater and installations. We have been moving forward like this, step-by-step, toward our visions.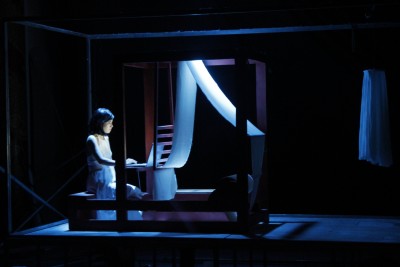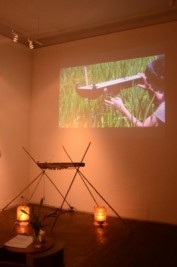 Hanoi New Music Festival
―I understand that fifty artists from Vietnam and artists from eight European countries took part in the first edition of Hanoi New Music Festival in 2013. I imagine it was an intense program of twelve productions being shown at DomDom and other venues in Hanoi from November 30 to December 8. Are you in charge of the programming and the finances of the festival?
Tran: Yes, I am. But now I have a team of three, one of whom is our arts manager who studied in England. I ask her to write up the grant applications, but, since I am the founder and have many experiences in fundraising, I still work on the main points of the application. And I must say, I know very well how to write good applications.
―I imagine the ticket–sales revenue is not much. Do you look for subsidies? To what kind of organizations do you apply for funding?
Tran: Most of the grants we succeed in getting for DomDom and the Hanoi New Music Festival are from foreign cultural institutions. For the previous edition, we received funding from one of the programs by SIDA (Swedish International Development Cooperation Agency) and also the Danish Embassy. We usually look for support from countries whose cultural policies include international exchange of contemporary art. Other than those two, we've also been funded by Goethe-Institut, Institut Français, the Japan Foundation, the British Council, as well as the Austrian and Italian Embassies.
―No funding from Vietnam?
Tran: No, not yet.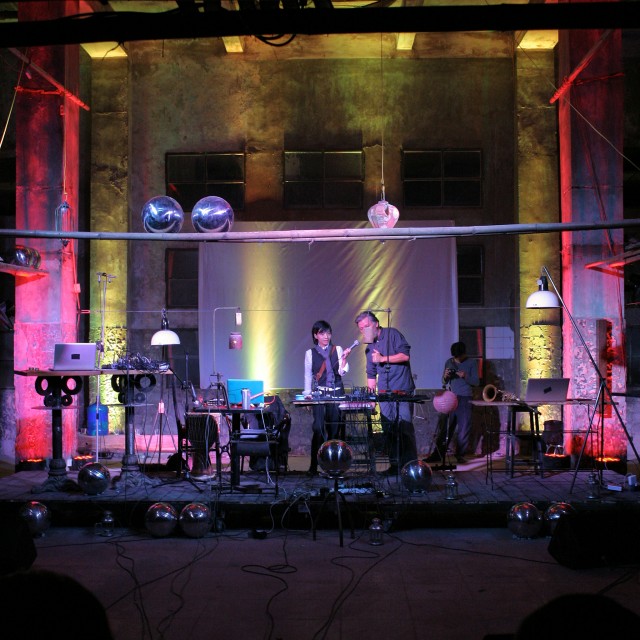 Hanoi New Music Festival

Hanoi New Music Festival
Move to a New Base for Activity
Tran: However, we have been discussing with an officer about the cultural policy in Vietnam and that has lead to some fortunate results. Although they do not provide funding, the city of Hanoi has decided to offer us a space for free. We're moving in soon. DomDom gets a new space (excited). It is about 200 square meters, so it is not very large; it is the basement of a large building in the old quarter of Hanoi. This is a very important step for our organization and also in terms of our strategy for involving policymakers of the country. It might not be very exciting or produce immediate results, but we still need to continue working with them.
―It seems you are fighting with the system alone.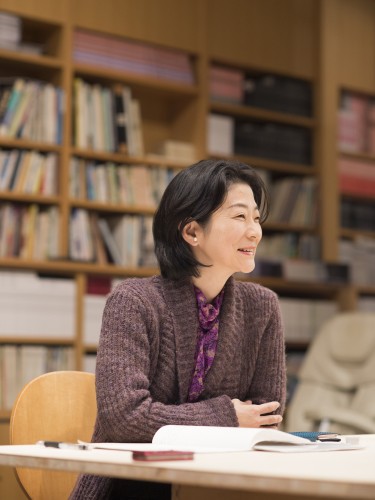 Photo: Naoaki Yamamoto
Tran: It is not a fight. I have coffee with them every month and talk with them as friends; it is not an office meeting but an informal chat over coffee. Even if it were an office meeting, I probably would still behave the same way, though. I am not looking for a political post or worrying about losing my current position, so I can be frank with them.
I sympathize somewhat, however, because it must be difficult for people within organizations such as representatives of a conservatory or the director of an orchestra. I am totally independent from the mainstream system, so I have the freedom to be honest whether they accept it or not. People often say to me that all of my efforts could be in vain, but I insist on speaking out.
The long-term goal of DomDom is to stimulate/move the current system to generate new trends and streams of music-making. To achieve this goal, it is necessary to cooperate with policymakers and people in the mainstream sectors. I may not be able to see the outcome of our efforts during my lifetime, but I have to entrust it to the next generation. I have to carry on with it. I had been working alone, isolated from society, but now it is time that I become a member of society and also make DomDom a part of society, too.
It is not at all a problem for me to be independent or even isolated as a composer. Being a composer and director of DomDom are two very different things.
―Thank you for this informative talk. I look forward to next year's Hanoi New Music Festival.
Tran: This was a wonderful opportunity. Thank you very much.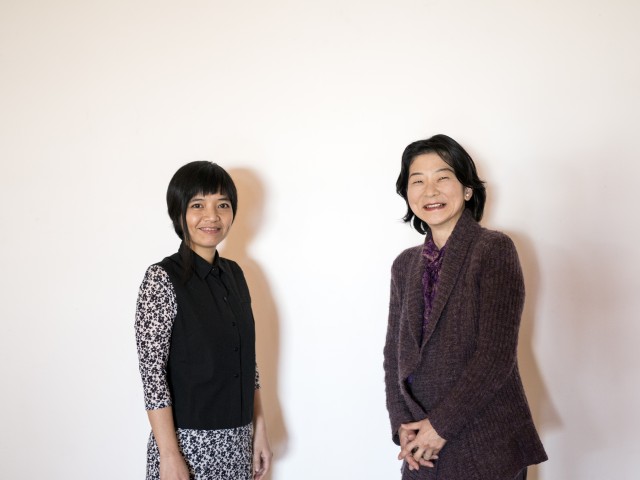 Photo: Naoaki Yamamoto
[February 11, 2016, at BankART Studio NYK]
---
Interview and text: Mikako Tamamushi
Currently a senior program officer at Arts Council Tokyo (Tokyo Metropolitan Foundation for History and Culture). She has engaged in programming and producing international music festivals including Tokyo Summer Festival (organized by Arion-Edo Foundation and the Asahi Shimbun Company), Music Today, Yatsugatake Kogen Music Festival (supervised by Toru Takemitsu) and Tokyo Experimental Festival (organized by Tokyo Wonder Site).
Translator: Makiko Wakai