ASIA HUNDREDS is a series of interviews and conference presentations by professionals with whom the Japan Foundation Asia Center works through its many cultural projects.
By sharing the words of key figures in the arts and cultures in both English and Japanese and archiving the "present" moments of Asia, we hope to further generate cultural exchange within and among the regions.
On Asian Meeting Festival
Minoru Hatanaka (hereinafter Hatanaka): The other day you had a reporting session on the activities of Asian Meeting Festival (AMF)*1 and it seems that you have concluded one phase of the project. Can you tell me your thoughts on building a network for musicians in Asia reflecting on activities of AMF?
*1 Initiated by Otomo Yoshihide in 2005 to create more exchange between musicians from Japan and other Asian countries. During 2014 to 2017, AMF was included as a project within Ensembles Asia / Asian Music Network organized by The Japan Foundation Asia Center, and Yuen Chee Wai and dj sniff were invited as Project Directors. The project evolved to building a network of independent musicians and organizers working in the field of experimental, improvised, and noise music. They have presented the festival in numerous cities in Japan, Singapore, and Malaysia. In 2018 they will present in Taiwan.
Yuen Chee Wai (hereinafter Yuen): Even before projects like AMF, musicians and artists have been collaborating across borders. When I think back to the time when Otomo Yoshihide*2 invited me to join FEN*3 and AMF 10 years ago, I don't think he had wanted to think in detail about political or historical elements, but rather he just wanted people to come together and do things on their own. And without funding we managed to make things happen over the years. So even if the collaboration between AMF and The Japan Foundation comes to an end, we can be sure that pockets of people will regroup and find enough energy to continue and even bring it to another level.
*2 Musician. Born 1959. Otomo's diverse style of music ranging from experimental to jazz and pop music has been internationally recognized. His work also takes form in exhibitions made in collaboration with various people or unconventinoal and unique concerts. In recent years, he has also been actively including the general public into his projects.
*3 FEN, Far East Network, formed by Otomo Yoshihide in 2008, is an improvised music project group comprising Otomo Yoshihide (Japan), Ryu Hankil (South Korea), Yan Jun (China) and Yuen Chee Wai (Singapore).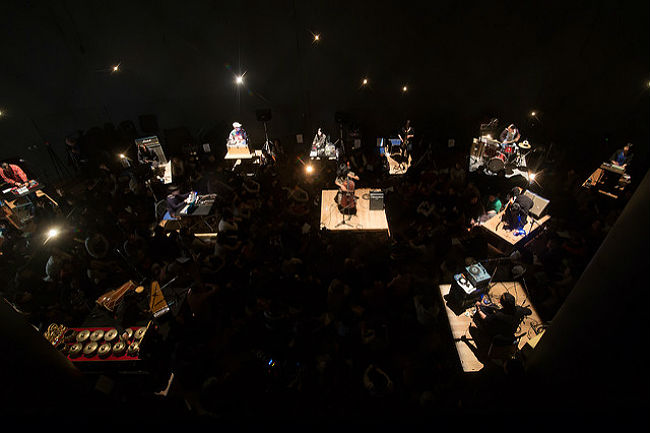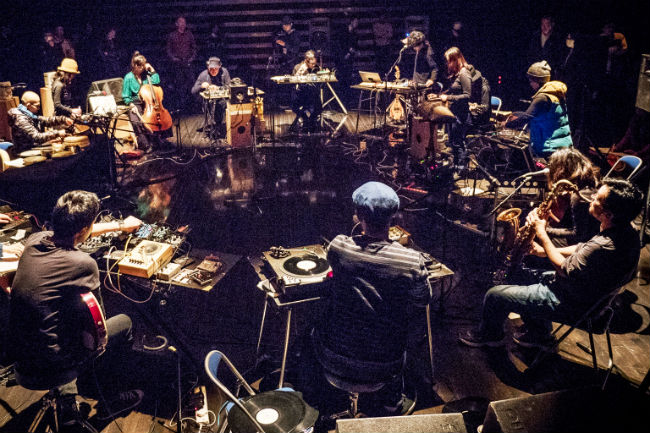 Yuen: For example, in Kuala Lumpur there are musicians like Yong Yandsen and Kok Siew-Wai. We invited Siew Wai to the first AMF in 2014. Till then, Siew Wai's activities were on a smaller scale, focusing mostly on organizing film and video based work. However, after AMF, both Siew Wai and Yandsen became very active, organizing events on a bi-weekly basis and contacting people they met at AMF for collaborations. Of course their work is a continuation of what they were doing before, but I think AMF was able to give it a little boost.
Hatanaka: People who would not have connected before are able to connect. When I saw the AMF concert, I felt that more than the individual activities of the musicians, there was something more achieved through collaborating with people from different fields. Perhaps that is something that wouldn't be possible if it was only through music.
Yuen: In that sense, I think the collaboration between festivals was another achievement we accomplished. When we organized AMF in Singapore we collaborated with Playfreely*4 , and in Kuala Lumpur we collaborated with the music program of KLEX*5 . I think that the local organizers were inspired to think on how they can extend their activities and appeal to larger audiences. We also discovered many things through working with them so it was a mutual cultural learning experience. AMF has really come very far within such a short span of time. We have made many connections and bridge many scenes. And most of the time, it is not entirely about music. It is an invisible reassuring connection that encourages each other to continue doing what we do as musicians, artists, and as fellow human beings.
*4 Playfreely is a music platform in Singapore organized by the members of The Observatory.
*5 Kuala Lumpur Experimental Flim, Video & Music Festival directed by Kok Siew-Wai is an independent, artist-run grassroots international festival of experimental film, video art and music founded in Malaysia in 2010.
Crossing Genres and Divides
Hatanaka: If we look at recent activities of Otomo, for example his installation work in the field of art, they seem to be a result of collaborating with artists like Yuko Mohri*6 and Tetsuya Umeda*7 , whom are not part of the improvised music scene but a different field. In Singapore, is there also a scene where there is no divide between art and music?
*6 A contemporary artist working with magnetism, gravity, light, and builds installations that sense things that cannot be seen or tangible.
*7 An artist that works between genres of visual art, music, and performing arts.
Yuen: There are people like Choy Ka Fai who is trying to present dance differently. I admire Ka Fai's work because he is able to reflect and question the idea and traditional discourse of dance using very unconventional angles. But in music, everyone is still using instruments in a conventional way, and I have not seen anyone like Mohri or Umeda. Their work and approach are more specialized. There are various individuals who try to collaborate and blur the lines between art and music, and vice versa, and sometimes it results in very interesting work. But I suppose more needs to be done.
Hatanaka: In another interview, you mentioned that there is more people playing experimental music, and that the scene is expanding.
Yuen: It is true that the scene is expanding and more people are venturing into playing experimental music. There are also more people organizing and attending gigs, and these contribute to a very diverse non mainstream scene. But deep inside, I am always hoping for something more radical. I think what the scene needs now, is something radical, or even to redefine the concept of radicality.
Hatanaka: Is the divide between genres very strong?
Yuen: I would assume that with genres, you mean the genres within music, for instance. I feel while there are divides or differences sometimes, they get resolved very quickly. But if you mean genre to be music and art, then the divide is pretty much similar to that of any other country. But I must add that I feel many visual art practioners do come to watch music performances in Singapore, and vice versa. And that is really healthy. There is quite a strong camaraderie I feel within these fields that makes the scene strong.
Hatanaka: Do you make installations or works that are extended forms of performance?
Yuen: Once I made an installation work for the first Singapore Biennale in 2006, but I got tired with the politics of the art world and haven't been involved in that much since then. With The Observatory, we have done some multisensory installation performances before.
Hatanaka: Perhaps the territories between genres are very clear. However, I think there are audiences that enjoy both music and art. There is a context for artworks that are in between or that cross over genres. How is it in Singapore?
Yuen: Well the problem is much more deeply rooted. I believe a large part of it has to do with the nature of the funding system. In Singapore, most artists receive funding from the National Arts Council Singapore. The Arts Council always draws very clear and distinct boundaries, and it is very difficult to cross these―either music or visual art, for instance. They do not understand enough what new "interdisciplinary" or "transdisciplinary" practices are. And because they do not know how to support new art forms within this kind of rigid structure, artworks that deal with cross over genres are hard to come to fruition.
Hatanaka: I would imagine that there are types of music that are established and not established.
Yuen: I believe that this established and not established notion happened at an early stage of post-independence Singapore. When the nation was being built in the 1960's, the Singapore government at that time strongly restricted and monitored subcultures, and as a result, the music industry didn't develop. Guys with long hair were told to have their hair cut, and many Western songs with suggestive lyrics were banned on the radio. A famous story was Kitaro, a Japanese keyboardist and composer, was refused entry to Singapore for a concert in 1984 because of his long hair. Led Zeppelin was also similarly not allowed to play in Singapore because of this reason. So this was the treatment of music and musicians.
And now, the Arts Council today is trying to re-energize the so-called "music scene" by promoting platforms to boost the local music scene. They are probably trying to put to right the government's overly successful campaign to stamp out a then vibrant music scene in the 60's and 70's. But this present day's approach is a too "clean" and convenient "solution" to make things happen. And consequently because the Arts Council intervenes too much, it staggers creativity. Everything needs to be quantified by numbers and KPIs. As a result, things don't grow organically.
At the same time, independent DIY culture or scenes like punk, hardcore, metal, experimental are rarely supported by the Arts Council. The Council is looking for a different kind of order, looks, and expression in music, and I feel this is also contributing to a divide. But I must add that this culture of resistance, also contributes as a form of cultural diversity.
Hatanaka: On the other hand, I think that subcultures gain power as a counter movement, so wouldn't you say that the Singapore underground scene gains momentum from this?
Yuen: Yes, this counter movement is very precious. Among the punk groups and DIY organizers, some continue to put on small gigs in jam studios. However, whenever something in the underground scene starts to have a strong impact, there will always seem to be an invisible force that adds pressure to shut it down – through gentrification, or the natural attrition of financial difficulties in keeping it alive.
Creativity and Identity
Hatanaka: What kind of position does your band, The Observatory*8 hold in the Singaporean scene?
*8 The Observatory, based in Singapore, is an avant-rock band comprising Yuen Chee Wai (Noise, electronics, synth), Cheryl Ong (Drums), and Vivian Wang (Synth bass, keys).
Yuen: The Observatory has been active for a long time, so I think that has been an inspiration for other bands to survive or to continue playing. We try to help other bands and musicians as much as we can. At the same time, we also want to constantly develop our music and what we do differently. We can't be playing the same songs over and over again until we are 50 and 60 years old. We are always thinking of ways for the scene and ourselves to progress and to find a new path. That can be about working or collaborating with visual arts in different and more meaningful ways, or contributing to the development of the scene through various forms of engagements, rather than just playing as a band.
For everything we make and every song that we write, we try to have our own original thought. We aspire to not self-censor, to be fearless and to express ourselves honestly and truthfully. By doing this, it may be a way to inspire people to think that it is possible to make a change. So far we haven't (and I hope we don't in the future) been put behind bars. We want to explore our boundaries further.
Hatanaka: For example, Otomo doesn't really consciously put forward any kind of idea of Japan or a Japanese identity in his work. But he is very aware of and vocal about the influences from Japan that shaped his musical identity, such as Japanese composers or old Japanese tunes. What is your musical identity or influences?
Yuen: That is a very difficult question, because Singapore doesn't have much of a cultural identity to draw from. Personally I am very influenced by film, visual art, architecture and literature. My music takes inspiration from these or from philosophy and critical thinking. What I often do is to just listen. I will make a sound and listen to it. Singapore is a cosmopolitan place where things are always happening and people tend to forget their own time and space. That is why often my music and ideas are developed from going into the studio and just listening to the space within silence for hours. Also the musicians whom I have been working very closely with in the last 15 years are musically very different and diverse, and this has also had a significant influence on me.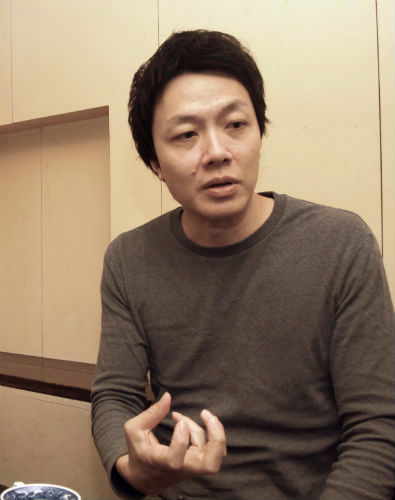 Hatanaka: If it was Indonesia, there is the Gamelan, which already embodies and reflects a strong tradition. AMF seems to just try out things regardless of each participant's background. Japan and Singapore may be similar in that they both tend to not present a cultural background too obviously.
Yuen: That may be true. In Singapore's case, there are many ethnicities and each has their own traditional instruments, so it is difficult to present a unified national sound. I think this is a very good thing that we can coexist without one definition.