Filmmaking and the Uniqueness of Singapore
Takiguchi: In terms of regional collaborations, Mr. Khoo, you initiated a film project called Art Through Our Eyes (2016), a film commissioned by the National Gallery Singapore.
Khoo: Yes, the National Gallery was established in 2015, and several projects were planned for their opening celebration. When they consulted with me, I suggested to them, "Your paintings are all from Southeast Asia. How about letting Southeast Asian filmmakers each choose a painting from your collection and re-interpret it through a short film." And my colleagues in the region, such as Apichatpong Weerasethakul and Brillante Ma Mendoza, were all excited with this idea. The great thing was that the National Gallery gave us full creative freedom, so we could do whatever we wanted.
I am now working on a HBO horror series which is planned to be released next year. I am inviting different groups of Southeast Asian filmmakers and they will tell a story of famous monsters or ghosts of their respective countries.
Takiguchi: How do you see the position of Singapore in Southeast Asia?
Tan: Because Singaporeans grow up in an English-speaking environment, we are perhaps in a position that has the easiest access to the outer world. For example, I think the Singapore International Film Festival is trying to position itself as a central discovery platform for Southeast Asian filmmakers. And, as Eric mentioned, I feel that Southeast Asian filmmakers are close to each other in some ways. It is probably because the Southeast Asian film industry has a relatively short history, is still developing and has a real potential for growth, thus there still is the sense of camaraderie among us.
Takiguchi: Now, more Singaporean directors go out and work with foreign crew and cast members. Are you seeing this as a positive move?
Khoo: Definitely, I think so.
Tan: Because of its size, accepting the idea of globalization is almost inevitable for Singaporeans. I feel a lot of young Singaporeans in general and Singaporean filmmakers in particular are very curious to go out of the country and explore the region around Singapore. I think it is quite natural for Singaporeans to feel this way.
Takiguchi: I suppose you need to adjust yourselves to deal with the cultural specificity of the place you work in. Singapore has....
Khoo: Singapore has no culture. The only culture is our food. We are too young. We are babies.
Tan: Coming from a place with so little tradition, it is almost natural for us to absorb the world culture of that time; we watch so many European films, and Thai films and Japanese films as well. So, adapting to what is happening around the world is essentially the nature of Singaporeans.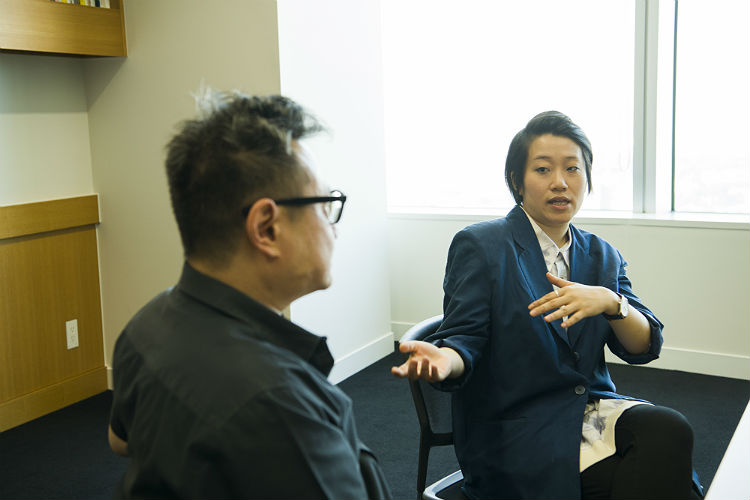 Khoo: When I was little, I used to watch Ultraman on TV. The Ultraman actually spoke in Malay because the program was brought in via Malaysia. Then I watched Gumby from the U.S. and The Magic Roundabout from the U.K. as well. Singaporean kids grow up in a very international environment in that sense.
When we talk about personal identity, it is also complex. In terms of language, English is the first language for many Singaporeans. However, we have three races, and each race has a unique language and culture. Fusion is the nature of Singapore. Thus, I would say that the food and Singlish—colloquial Singaporean English— are something we can really call our culture because of their hybrid nature. I agree with Kirsten that we are like a sponge; we absorb what's around us. I think that characteristic can be called our strength in some ways.
Takiguchi: Now I would like to ask about the screening venues and the chances of watching art films. Can you easily access these films in Singapore?
Khoo: Actually, more international titles are released in Singapore every year than in Japan, Korea, Hong Kong, and Taiwan. It is quite amazing that some of the major exhibitors and distributors in Singapore, such as Shaw Organisation, show a substantial number of indie films. Although they unfortunately only screen these films for a short period of time—usually just for a week or two—we actually are exposed to many different types of films.
This is because Singapore has become a test market for the region, and major companies screen various films to see what sort of audience they have and their reactions before taking them to other parts of Southeast Asia.
Tan: I wish, for example, 5 percent to 10 percent of the total movie theaters and screens in Singapore could be kept for local films.
Khoo: For many years, Singaporean filmmakers have been trying to fight for a film center, a screening venue where you can access more local programs—a venue like the British Film Institute (BFI). It can partner up with the bigger bodies such as the Singapore International Film Festival. I hope that would happen one day.
Tan: But some existing venues are trying really hard to screen art films for longer periods; for as long as possible, actually. One good example is The Projector, a new independent screening venue which renovated a historic cinema. They are now setting up a smaller screening room to support local and regional works.
Takiguchi: How about regional films—Southeast Asian films to be precise?
Khoo: Well, the Singapore International Film Festival definitely provides opportunities to watch Southeast Asian film titles. But I have to say that it is difficult to screen these films on a commercial basis unless the film has a very strong attraction.
Tan: The Asian Film Archive, a Singapore-based organization aiming to preserve the film heritage of Asian cinema, is another platform that provides access to regional films. They are starting their own mini cinema that will screen art films. Thanks to governmental support, we can see the growth of these cinémathèques that are not greatly affected by the commercial considerations.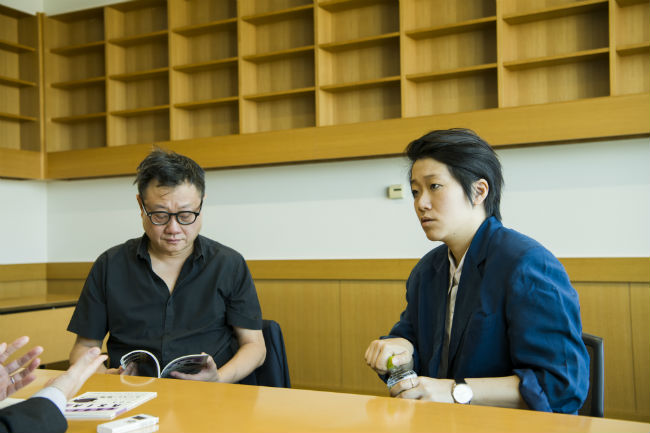 Takiguchi: This might be a bit of a sensitive issue but how about censorship? Mr. Khoo, you suffered quite a bit from censorship in Singapore.
Khoo: Yes, as I mentioned, my early film Pain was banned. But I guess we are progressing. Of course, there are several topics which the government is definitely sensitive with. One is religion. Another is what they call "unsavory lifestyle"such as homosexuality.
However, there are some rules in Singapore that are more relaxed than other countries. For example, you cannot show male genitalia on screen in Japan, but it is allowed in Singapore as long as it is not erect. The film would be simply rated M18.
Tan: Oh really? And politics is something they do not like us to talk about either. When I went to the film school in Singapore, they taught us what we should not do in the film in the very first class. They taught us about the Films Act and told us we should not talk about anything sensitive such as religion and politics. Singaporean filmmakers learn, almost as soon as you enter into filmmaking, how to navigate yourself realistically through the system of censorship.
Takiguchi: Doesn't it sound like teaching self-censorship?
Khoo: But that can be a creative motivation. Let's put it this way: in countries like Iran, there are many restrictions and even a kiss is not allowed to be shown. But Iranian filmmakers are still very creative.
Censorship challenges us and makes us think how to trick them, how to push the parameters, and how to push the bar. Every young filmmaker in Singapore, including those like me who were once young, tries to do just that. It is divine.
Tan: And, of course, you can do whatever you want to do in theory. It's just that your film may be banned or rated M18 or R21 as a result. It's not the most ideal situation but growing up here, you learn work with or around some limitations.
Takiguchi: Do you think there has been a positive development in terms of censorship?
Khoo: It is a lot better now. When I produced Royston Tan's film titled 15 in 2003, we were told to edit out twenty-seven shots. It was crazy. But if we did it today, I suspect there would be no cuts.
Tan: I think it is important that different groups in the film industry, such as the Singapore Film Commission and the filmmakers, learn to trust each other in some ways. Hopefully, the authorities will realize that filmmakers are not here to criticize just for the sake of criticism. Film acts as a mirror to society and sometimes what we see isn't forever pretty.
Takiguchi: Let me conclude this interview with this question: What do you think is the key to develop the younger generation of filmmakers in Singapore?
Tan: Continued public funding. This sounds very simple and easy, but has a profound impact. You have to support ten filmmakers without knowing which one will become successful. You just cannot predict that. It is like planting seeds—you just plant them and some will grow after ten years.
Khoo: I am very happy with the Singapore Film Commission's grant scheme for supporting young filmmakers. As long as they are there to offer their support, our youngsters will work on more film projects and win more awards. Once the support is taken away, it will be very difficult for them to emerge.
Tan: One key factor is the market size which Eric mentioned earlier. The film industry in Singapore has not yet developed into a genuine industry. Governmental support at this stage of development is critical and important.
Khoo: France, for example, has a tax incentive to support local filmmakers. This is because they see films as an important culture. This attitude is the key, I think. I hope Singapore will become aware of this and develop a similar recognition soon.
Tan: Maybe it'll happen in a hundred years.
Khoo: Yeah.
Takiguchi: Let's hope it happens sooner than that.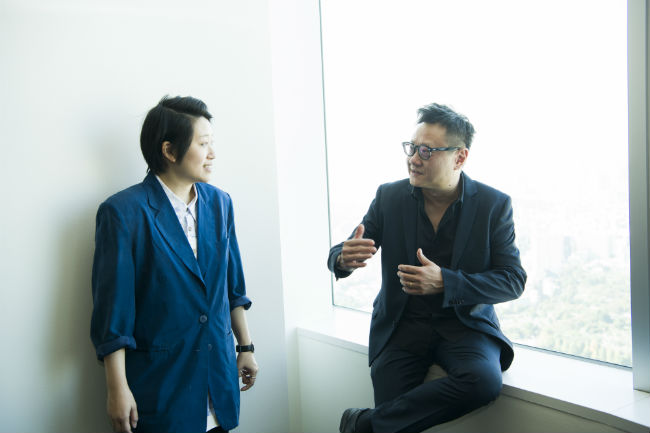 [On October 27, 2017 at Roppongi Academy Hills]
More Information
Eric Khoo (from Zhai Wei Films Official Website)
Pop Aye Trailer

---
Interviewer: Ken Takiguchi
Ken Takiguchi is a dramaturg and translator. Takiguchi was based in Malaysia and Singapore from 1999 to 2016 and has participated in numerous intercultural theatrical productions. Holding PhD from the National University of Singapore, he is a founding member of Asian Dramaturgs' Network, and one of the Deputy Directors of Asian Shakespeare Intercultural Archive, an online database of Shakespearean performances in East and Southeast Asia. He is currently working at the Japan Foundation Asia Center and teaching part-time at Tokyo University of the Arts.
Photo (Interview): Toru Hiraiwa