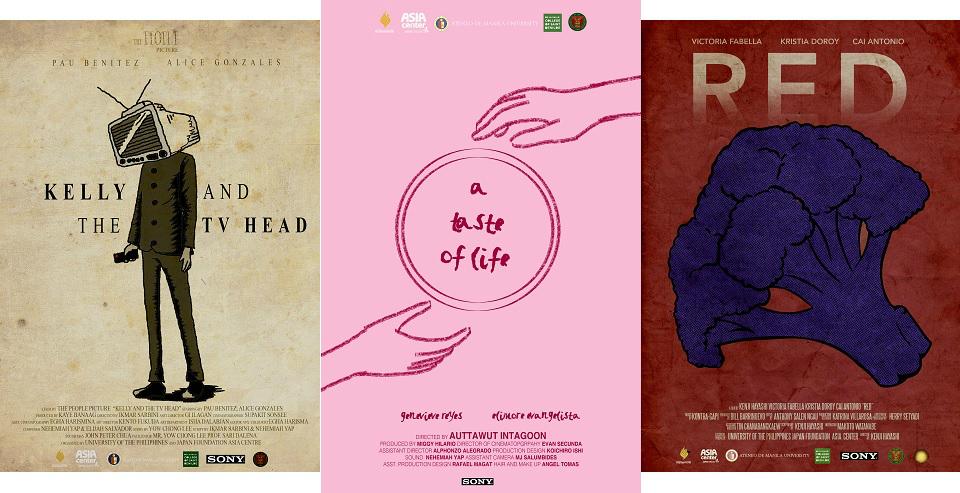 (From Left) KELLY AND THE TV HEAD、TASTE OF LIFE、RED
The Japan Foundation Asia Center launched ...and Action! Asia: Exchange Program for Students in Film Studies in 2014 fiscal year with the aim of encouraging a new generation of filmmakers from Asia to achieve a greater understanding of filmmaking in other countries, expand their networks in the region, and utilize their experience for their studies and future careers.
For its third edition, the program was co-organized with the University of the Philippines Film Institute, in cooperation with the Ateneo de Manila University and De La Salle-College of Saint Benilde and held in the Philippines from late February to early March for 13 days. This was the first workshop held outside Japan, in Quezon City, Metro Manila, one of the Asia's undisputed movie capitals.
At the workshop, 19 students in film studies from Japan, the Philippines, Indonesia, Thailand, and Malaysia made three short films and received special lectures by film professionals who lead Filipino film industry, Bianca Balbuena, Carlos Siguion Reyna and Armando "Bing" Lao. The works the participants made were screened at Cine Adarna of the University of the Philippines and reviewed by the audiences and the professionals.
These colorful three short films were revealed online.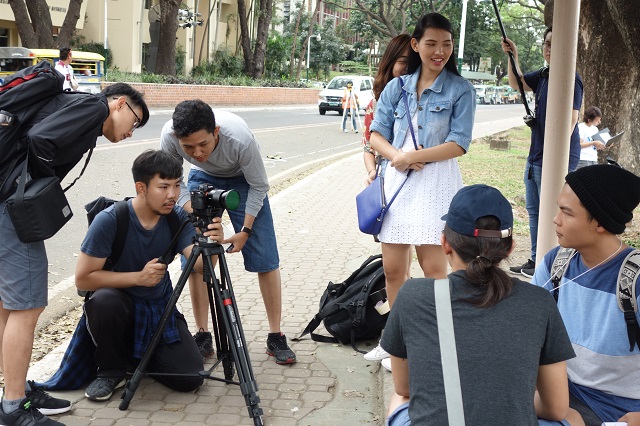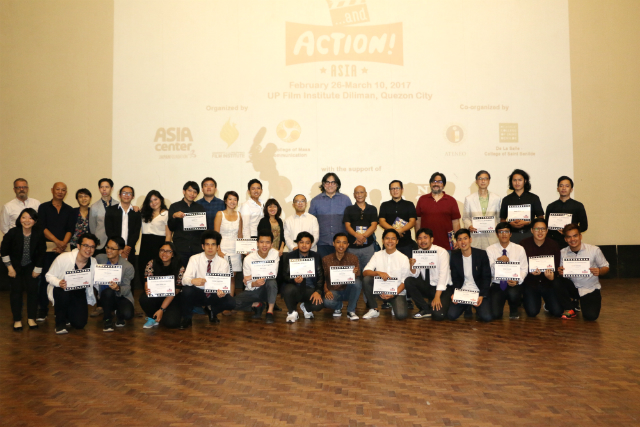 About Short Film Production
The program invited Japanese and Southeast Asian students in film studies to submit project plans of five-minute length films on the cultural society of the Philippines. University of the Philippines Film Institute chose three plans and candidates, and organized three multinational groups consisted of Japanese students, Southeast Asian students, and instructors to make films in Quezon City, the Philippines.
Production
Duration
February 27 – March 7, 2017
Shooting
Location
In the campus premises of the University of the Philippines located in Quezon City, the Philippines
Basic Theme
Each group to make a short film on one of the following themes

1. Student Life

2. Impressions of Manila

3. Richness and Diversity in Cultures

Filming Equipment
provided by
De La Salle-College of Saint Benilde, Sony Philippines, University of the Philippines
Editing Equipment
provided by
Ateneo de Manila University
Film Title: KELLY AND THE TV HEAD
Synopsis: It is Kelly's birthday and her best friend, Jade, would like to surprise her. Instead of taking Kelly to shopping, she takes Kelly to a local stand alone cinema that offers Kelly an unexpected cinematic experience which reminds her of her past.
Production Team: Nur Ikmar Bin Sarbini, Katrina May B. Banaag, Egha Muhammad Harismina, Supakit Sonsee, Kento Fukuda, John Peter Cadiz Chua, Gilan Paolo P. Ilagan, Yow Chong Lee (Instructor)
(Language: Tagalog / Subtitle: English)
Film Title: TASTE OF LIFE
Synopsis: Nam, a Thai Muslim food blogger, is assigned to write an article about Filipino food. She meets Lilly, a dismissive local guide assigned to help her. After mistakenly feeding Nam pork, Lilly tries to make amends by making her review Bulalo. Over the course of the meal, they eventually bond and start an understanding each other. They develop something more than a friendship.
Production Team: Attawut Intagoon, Lorenzo Miguel B. Hilario, Evan Secunda, Nehemiah Yap Jia Sheng, Koichiro Ishii, Alphonzo C. Alegrado, Nuntanat Duangtisarn(Instructor), Yusmita Akhirul Latif(Instructor)
(Language: English)
Film Title: RED
Synopsis: A university student faces a confusing situation. He tries to define his color. When he tries to find it, he faces some obstacles.
Production Team: Kenji Hayashi, Brainard Bill Barrinuevo, Anthony Saleh Ngau, Katrina Ysabel Villarosa, Herry Setyadi,Tin Chanabangkaew, Makoto Watanabe (Instructor)
...and Action! Asia #03
Program
Title
...and Action! Asia: Exchange Program for Students in Film Studies
Duration
February 26(Sun) – March 10(Fri), 2017
Venue
University of the Philippines, Ateneo de Manila University and Quezon City, the Philippines
Organized
by
The Japan Foundation Asia Center
Co-organized by
University of the Philippines Film Institute
Cooperated by
Ateneo de Manila University and De La Salle-College of Saint Benilde
Supported
by
Sony Philippines
Participating
Institutions
19 students from 5 countries:

University of the Philippines, Ateneo de Manila University, De La Salle-College of Saint Benilde (The Philippines), Jogja Film Academy (Indonesia), Universiti Malaysia Sarawak (Malaysia), Bangkok University (Thailand), Nagoya University of Arts and Science, Japan Institute of the Moving Image, Tohoku University of Art and Design and Waseda University (Japan)

Guest
Lecturers
Bianca Balbuena (producer), Carlos Siguion Reyna (director), Armando "Bing" Lao (scriptwriter)