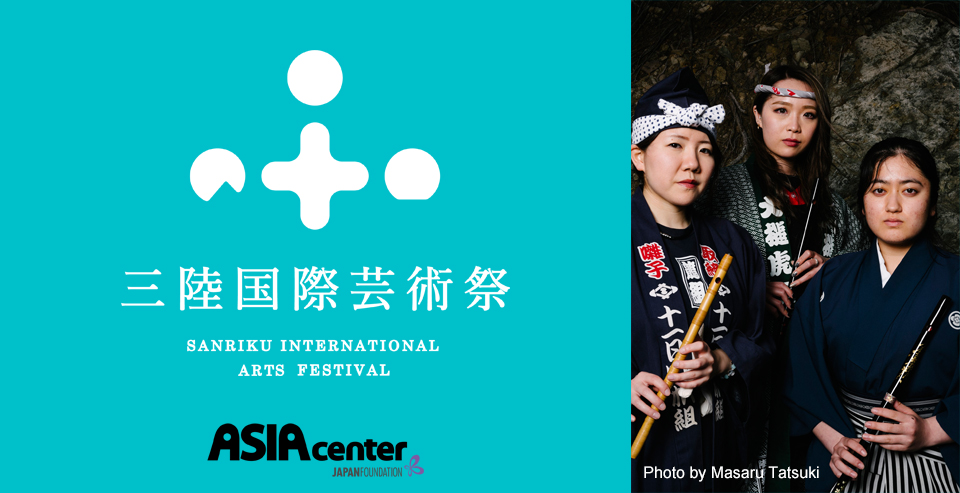 Since 2015, the Japan Foundation Asia Center has collaborated with Sanriku International Arts Festival to conduct exchange projects that connect the Sanriku coastal region to Asia, in particular Southeast Asia, through folk performing arts. By means of these exchanges with performing arts groups throughout Asia, where folk performing arts are deeply engrained in everyday life, our aim is to build enduring exchanges that will last into the future as the artists make new discoveries and stimulate each other's creativity.
In 2020, due to the worldwide outbreak of COVID-19, the lifestyles and conduct of people everywhere have drastically changed. Sanriku International Arts Festival, which was based on people crossing international borders in order to meet and create together in person, has had to completely revise its approach. However, we believe these present circumstances call us to proceed with rather than cease our exchanges.
This year's Sanriku International Arts Festival will connect folk performance arts of Asia and Sanriku in a completely different manner and will place the emphasis on sharing the process behind new cultural activities.
Sanriku International Arts Festival Official Website
https://sanfes.com
What is "Sanriku International Arts Festival"?
Numerous forms of folk performing arts originated in the Sanriku coastal area and have been passed down over generations. Established in 2014, the purpose of Sanriku International Arts Festival is to revive the folk performing arts as well as the arts and culture that suffered from the Great East Japan Earthquake, to foster the next generation of performing artists, to encourage the understanding of diverse cultures and to promote the appeal of Sanriku both domestically and internationally. Sanriku International Arts Committee, which is composed of local governments and private organizations, was established in 2018 and operates projects by deepening regional cooperation.
2021 Asia Center Co-organized project "Sanriku x Asia"
Fue Lab-a Bamboo Flute Lab (May to September)
In this project, artist groups from Asia (Indonesia and Cambodia) and Sanriku will learn from each other and collaborate to create a piece utilizing the common theme of the "bamboo flute"(Fue) that exists across Asian countries. The entire process, from creation to the final presentation, will be conducted online. The collaborative performance will be presented as one of the co-hosted programs of the Tokyo 2020 NIPPON Festival.
[ Presentation ]
Sunday, September 5, 2021, 1:30 p.m.–4:30 p.m. (JST)
Sunday, September 12, 2021, 1:30 p.m. (JST)
Event Details
* We had originally planned to present a live stream of the performance on Sunday, September 5th from 1:30 p.m. However, due to the current surge of COVID-19 cases, we have made a change to our plan. Instead of a live stream, we will prerecord the entire program while observing all pandemic safety protocols and broadcast the recording at a later date.
The new streaming schedule will be Sunday, September 12th from 1:30 p.m. We thank you for your understanding.
Past projects
Sanriku Asian Network Project "SAN Project"
https://asiawa.jpf.go.jp/en/culture/projects/san-project/
---