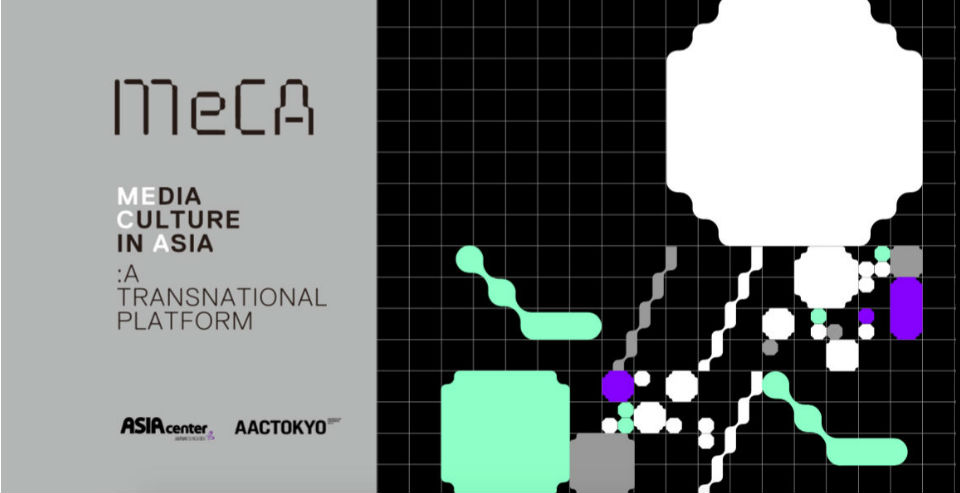 As part of ref:now—toward a new media culture in asia, which comprehensively showcases contemporary media culture and creativity through art, exchange, education, and collaboration, the Japan Foundation Asia Center and TodaysArt JAPAN / AACTOKYO present Media Culture in Asia: A Transnational Platform (MeCA), a comprehensive showcase of new media and digital culture in Asia, running from February 9th to February 18th, 2018.
Platform for new media and digital culture in Asia
MeCA focuses on the rapidly developing creative scene in Asia, encouraging exchange and partnerships within the emerging generation of talent in the region through an art exhibition, music program, workshops, talks, and an international symposium. As the first fully comprehensive event of its kind in Japan to examine digital creativity through the frameworks of art, music, and education, it will take place in Harajuku, Omotesando, and Shibuya—areas with established reputations as birthplaces for exciting new culture—and produce a platform firmly rooted in the global scene.
Highlights
Japan's first platform-style international event about new media and digital culture
Wide range of programs and events across six categories
Brings together approximately 60 leading artists and experts from around Asia

Programs
1. Art Exhibition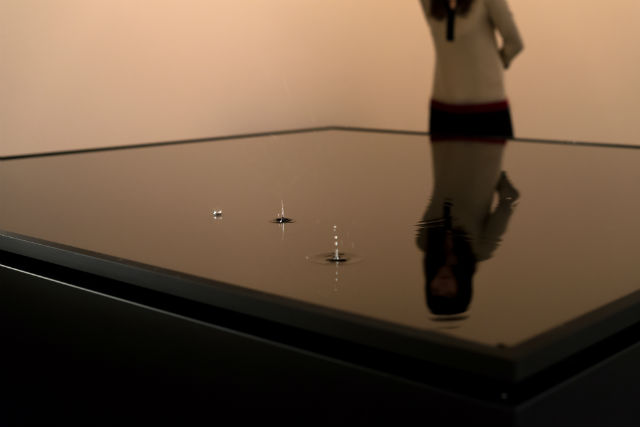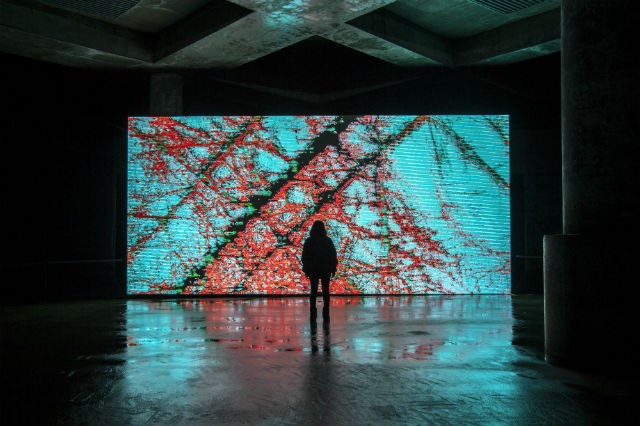 Including artworks shown publicly in Japan for the first time, this exhibition introduces artistic practice that creatively harnesses digital technology. It brings together various examples of new media art produced in different regions, from work commissioned by Yamaguchi Center for Arts and Media [YCAM], an art center in south Japan, to WSK: Festival of the Recently Possible, a leading presence in the field in Southeast Asia, the Japanese-French joint festival Digital Choc, and the French events Biennale Némo and Scopitone. Alongside large-scale installations, the exhibition presents encounters with a wide range of practice employing diverse forms of media.
Artists
Ryuichi Sakamoto + Shiro Takatani (Japan)
Norimichi Hirakawa (Japan)
Guillaume Marmin and Philippe Gordiani (France)
couch (Japan)
Bani Haykal (Singapore)
Kawita Vatanajyankur (Thailand)
Studio The Future (Netherlands)
Time & Date
February 9 (Friday) - 18th (Sunday), 2018
11 a.m. to 8 p.m.
* open until 5 p.m. on last day
* open until 6 p.m. on 11 (sun) at OMOTESANDO HILLS SPACE O
Venues
OMOTESANDO HILLS SPACE O Access
4-12-10 Jingumae, Shibuya-ku, Tokyo 150-0001 google map
Laforet Museum Harajuku Access
1-11-6 Jingumae, Shibuya-ku, Tokyo 150-0001 google map
Admission fee (incl. tax)
One-day-pass = 1,000 yen
All-day-pass = 1,800 yen (Multiple admissions allowed during event period)
* May attend events at Omotesando Hills Space O and Laforet Museum Harajuku.
* May attend Special Talks by Redbull Studios Tokyo, Gallery Talks by Omotesando Hills Space O, held on the day of entry only.
* Special advance registration is required for some programs.
* Admission free for preschool children and elementary/junior high school students.
* For special events, such as Music Programs, additional ticket is necessary.
2. Music Program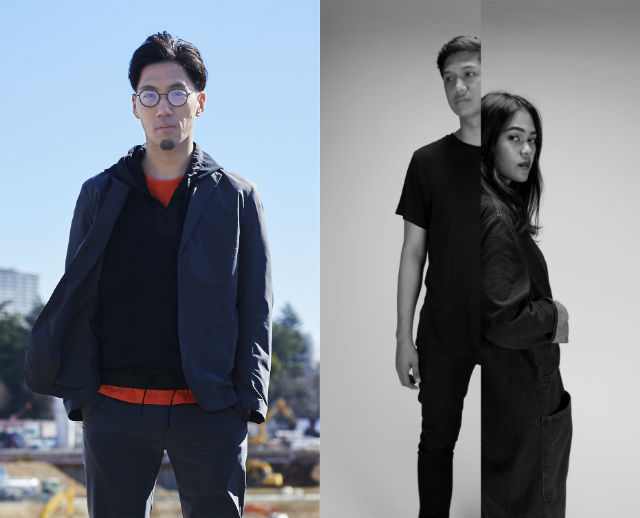 The music program comprises two parts: a program exploring trends in music culture since the emergence of the Internet, and a program showcasing sound and video art created with digital technology. As MeCA's opening program, it will feature an all-night series of events across two venues.
BORDERING PRACTICE(WWW X)
Program Director
tomad (Head of Maltine Records /Japan)
Artists
tofubeats (Japan)
KIMOKAL (Indonesia)
Meishi Smile (U.S.)
Ryan Hemsworth (Canada)
Meuko! Meuko! (Taiwan)
PARKGOLF (Japan)
similarobjects (The BuwanBuwan Collective / Philippines)
Alternative SOUND + VISION (WWW)
Artists
Morton Subotnick (U.S.)
Lillevan (Germany)
Alec Empire (Germany)
Jacques (France)
Young Juvenile Youth (Japan)
Jean-Baptiste Cognet and Guillaume Marmin (France)
X0809 (Thailand)
Time & Date
February 9 (Friday), 2018
9 p.m. to 5 a.m. (February 10)
(Doors open: 8 p.m.)
Venues
WWW, WWW X (Shibuya) Access
RISE Bldg,13-17 Udagawa,Shibuya,Tokyo 150-0041 google map
Admission fee (incl. tax)
Advance Sale = 3,500yen (Plus one drink)
On-day-ticket = 4,500yen (Plus one drink)
*Free one drink for MeCA Exhibition pass holders at reception desk
*Admission to the music program is restricted to those aged 20 and above.
*All visitors are required to show a photo ID to gain admission.
3. Education Program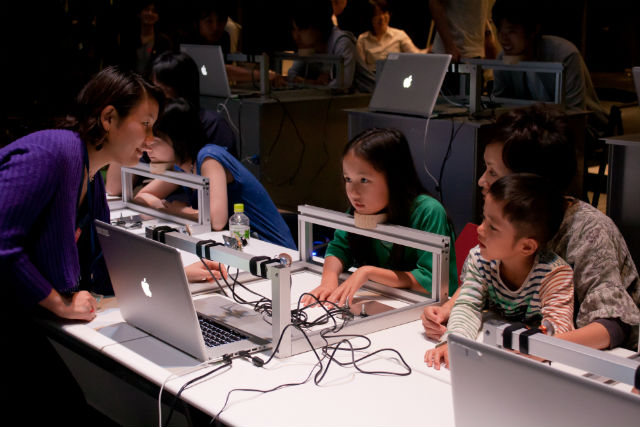 Offering the chance to learn about creativity in the network society through the key concepts of "society," "body," and "media technology," MeCA's education program is aimed at fourth-grade elementary school students and older.
Dates:
February 10th (Saturday), 2018
February 12th (Monday), 2018
February 17th (Saturday), 2018
February 18th (Sunday), 2018
10:30 a.m. to 12:30 p.m. / 2 p.m. to 4 p.m.(two sessions per day) .
Fee: 500 yen (reservations required)
Cooperation
Yamaguchi Center for Arts and Media [YCAM]
Lifepatch
*Visit the MeCA Official Website for details on the venues and reservation.
4. Related Events (Talks, Gallery Tours)
Other events include talks with participating artists and experts as well as guided tours of the exhibition. Further information will be announced on the MeCA Official Website at a later date.
Tickets
Purchase your tickets to Art Exhibition and Music Program from the following links!
Art Exhibition: meca.peatix.com
Music Program: mecamusic.peatix.com
Events Details
↓MeCA Flyer Click to Enlarge (PDF: 353kb)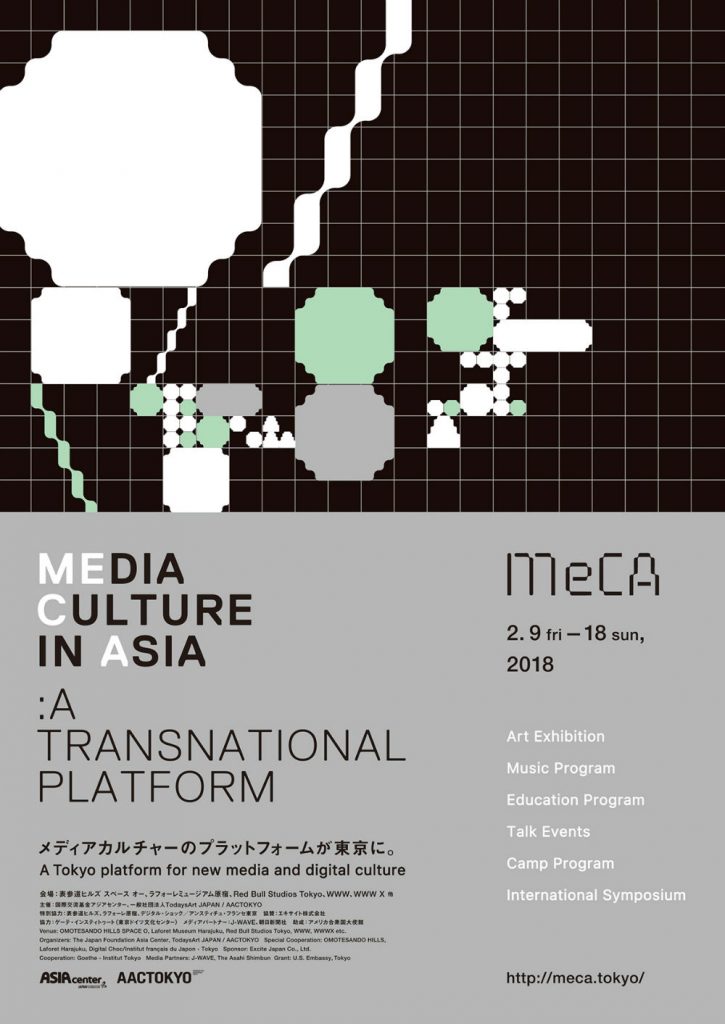 MeCA | Media Culture in Asia: A Transnational Platform
Dates
February 9 (Friday) to 18 (Sunday), 2018 [10 days in total]
Venues
OMOTESANDO HILLS SPACE O
Laforet Museum Harajuku
Red Bull Studios Tokyo
WWW
WWW X
and more
Organizers
The Japan Foundation Asia Center
TodaysArt JAPAN / AACTOKYO
Special
Cooperation
OMOTESANDO HILLS
Laforet Harajuku
Digital Choc/Institut français du Japon - Tokyo
Sponsors
Warehouse TERRADA
Excite Japan Co., Ltd.
JEPLAN, INC.
Cooperations
Ricoh Co., Ltd.
Goethe-Institut Tokyo
Shibuya City Tourism Association Inc.
Fostex
Peatix
Media
Partners
J-WAVE
The Asahi Shimbun
PR TIMES
Grants
Arts Council Tokyo
Tokyo Metropolitan Foundation for History and Culture
U.S. Embassy, Tokyo
Support
Embassy of the Kingdom of the Netherlands
Shibuya City

This is the certified project of beyond 2020 program.