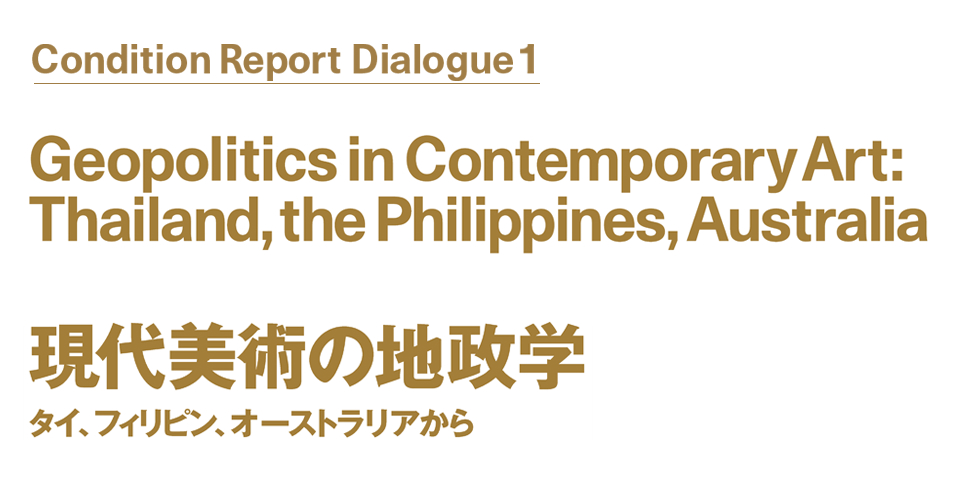 The Japan Foundation Asia Center will present a series of talk sessions called "Condition Report Dialogue." The title of the first round is "Geopolitics in Contemporary Art: Thailand, the Philippines, Australia."
Conditions in the art scenes of Southeast Asian countries are rapidly changing.
Particularly prominent has been the surge in international exhibitions and art festivals held in nations both with and without Western-style art museum infrastructures, including at locations other than the capital cities. In Indonesia, for instance, the Jakarta Biennale and Biennale Jogja are now well-established events, but Thailand hosted three major international exhibitions in 2018 alone (the Bangkok Biennial, Bangkok Art Biennale, and Thailand Biennale Krabi). In the Philippines, the art festival VIVA EXCON has continued to take place since the 1990s in various locations around the Visayas Islands. In recent years, increasing numbers of participants in the festival are invited from overseas and it has also attracted attention from Manila. As the activities of art museums have expanded, the Southeast Asian art scene, not least the efforts of the long-running Singapore Biennale and Asia Pacific Triennial of Contemporary Art (APT) in Australia, is now starting to receive recognition more widely for its engagement with real social issues and conditions.
This talk features Gridthiya Gaweewong, a longtime leading figure in the Thai art world who will introduce and evaluate the situation for the art scene today in the country with a focus on this year's much-discussed three international exhibitions, while also incorporating perspectives on art activity developments in regional areas. She is joined by Che Kyongfa, who will report on a survey of recent shifts evident in VIVA EXCON and APT9.
Exploring the concept of "art" (in Thai, silpa) presented as an event for people in Thailand as well as local Thai sensibilities in this context, the relationship with overall social trends, and the politics lying behind this, the speakers will discuss the symbolic nature of many of the art exhibitions that are held in the Southeast Asian region along with comparisons with art activities and practices in Japan.
Please join us for this valuable opportunity to learn about the very latest conditions in the ever-changing Southeast Asian art scene.
Condition Report Dialogue 2 "Representation and Participation: The Venice Biennale and the Southeast Asian Pavilions"
Event detail
Date
Friday, December 21, 2018
6:00 p.m. to 8:00 p.m.
Venue

The Japan Foundation (Main Building) Hall "Sakura" Access
4-4-1 Yotsuya, Shinjuku-ku, Tokyo google map

Admission
Free (Pre-registration required), Capacity of the venue: 70 persons
Language
Japanese/English (with consecutive interpretation)
Organizer
The Japan Foundation Asia Center
How to apply
Email your 1) Name, 2) Affiliation, 3)Phone number, and 4) E-mail address with the subject "Geopolitics in Contemporary Art" to the following address.
jfac_visual_arts@jpf.go.jp
Deadline: December 19, 2018
Inquiries
Yasuko Furuichi (Ms.)
Arts, Culture, and Exchange Section 1
The Japan Foundation Asia Center
Tel: 81-3-5369-6140
E-mail: jfac_visual_arts@jpf.go.jp
Participants
Gridthiya Gaweewong (Artistic Director, Jim Thompson Art Center, Thailand)
Che Kyongfa (Curator, Museum of Contemporary Art Tokyo, Japan)
Moderator
Yasuko Furuichi (Exhibition Coordinator, The Japan Foundation Asia Center, Japan)