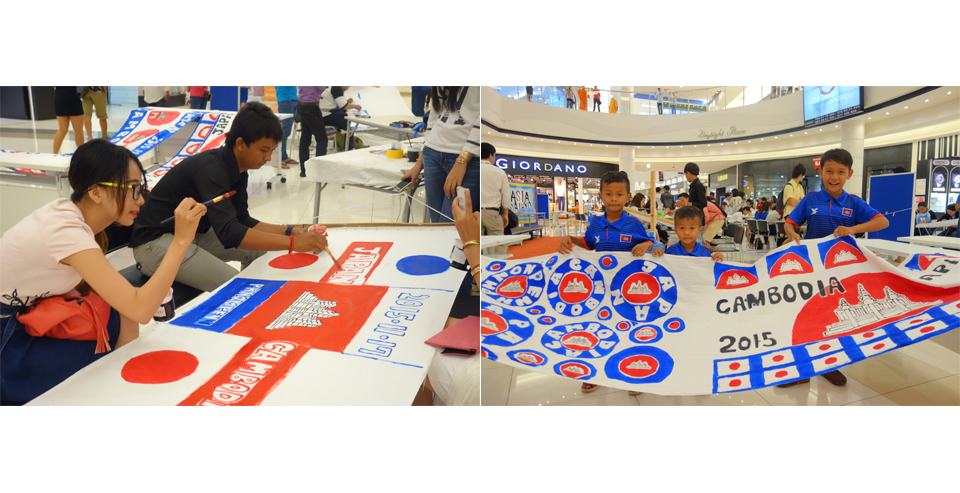 The Japan Foundation Asia Center will organize the JapaFunCup International Friendly Football Match between ASIAN ELEVEN, the U-18 football players selected from Southeast Asia, and the U-18 Tohoku Selection Team, on Saturday, June 22, 2019 at the J-Village Stadium. To support this event, the Match Flag Project 2019 will hold workshops to produce flags using motifs from the national flags of Southeast Asian countries and Japan. The Match Flag is an art project that anyone can participate regardless of age, gender or nationality.
Come and join the workshops at Yoyogi Park! Free bus tour to the JapaFunCup will also be organized on June 22.
For more details about the workshops and the bus tour, please click below. (English follows after Japanese.)
https://www.hibinospecial.com/direction/match-flag-project/match-flag-project2019/
Event Details
Time and date
Saturday, 25 May and Sunday, 26 May, 2019
10:00 a.m. - 7:00 p.m.,
Venue

Yoyogi Park Events Square (MATCH FLAG booth in Laos Festival) Access
Shibuya-ku Yoyogikamizono Town, Jinnan-chome, Tokyo Googlemap

Language
Japanese (English-speaking staff is available)
Entry fee
Free of charge
Registration
No-reservation is required.
Contact
E-mail: p.matchflag@gmail.com (MATCH FLAG PROJECT2019 office)
Organizer
The Japan Foundation Asia Center
Art Director
Hibino Katsuhiko (Artist / Professor, Tokyo University of the Arts)
Production
team
yanaka no okatte (General Incorporated Association)
Support
The ASIA DAIHYO Nihon Organizing Committee, Diversity on the Arts Project Team (Tokyo University of the Arts)
This is the certified project of beyond 2020 program.