The Asia Leadership Fellow Program (ALFP) is a joint program of the International House of Japan and the Japan Foundation Asia Center that seeks to create a close, personal, and professional network of public intellectuals in Asia who have demonstrated outstanding abilities in leadership and are deeply committed to improving civil societies beyond their respective backgrounds and professional arenas.
This year, 8 fellows participated in the program from September to November. This year's program overview and fellows' profiles are available on the following website;
Asia Leadership Fellow Program (ALFP)
ALFP Lecture Series#2 Bridging Divides and Disparities in Asia
This lecture series invites leading public intellectuals, mainly ALFP fellows, as speakers on different themes. In the first session, we invited the three journalists to speak about the role of media and other issues surrounding current Asia.
In the second session, three public intellectuals from India, Thailand and the Philippines will share some of the concrete measures they have taken to ease the plight of neglected and marginalized people in their respective countries and cast new light on these pressing issues from multiple perspectives.
↓Click to Enlarge[PDF: 3.94M]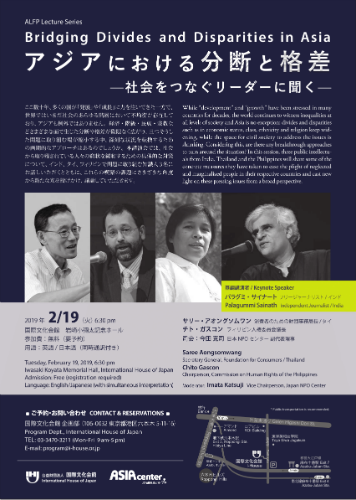 Asia Leadership Fellow Program (ALFP) Lecture Series #1 Journalism in Asia: Searching for the Truth
Overview
Time & Date
Tuesday, February 19, 2019, 6:30 p.m. (Door open 6:00 p.m.)
Venue

Iwasaki Koyata Memorial Hall, International House of Japan Access
5-11-16 Roppongi, Minato-ku, Tokyo Googlemap

Language
English/Japanese (with simultaneous interpretation)
Admission
Free (registration required)
Register
Registration form is available on the ALFP website;
https://alfpnetwork.jfac.jp/en/alfp_lectureseries02192019/
Inquiries
The International House of Japan Asia Leadership Fellow Program Secretariat
program@i-house.or.jp
Organizer
The Japan Foundation Asia Center, The International House of Japan
Official Website
Asia Leadership Fellow Program
Keynote Speaker
Palagummi Sainath (India)
Independent Journalist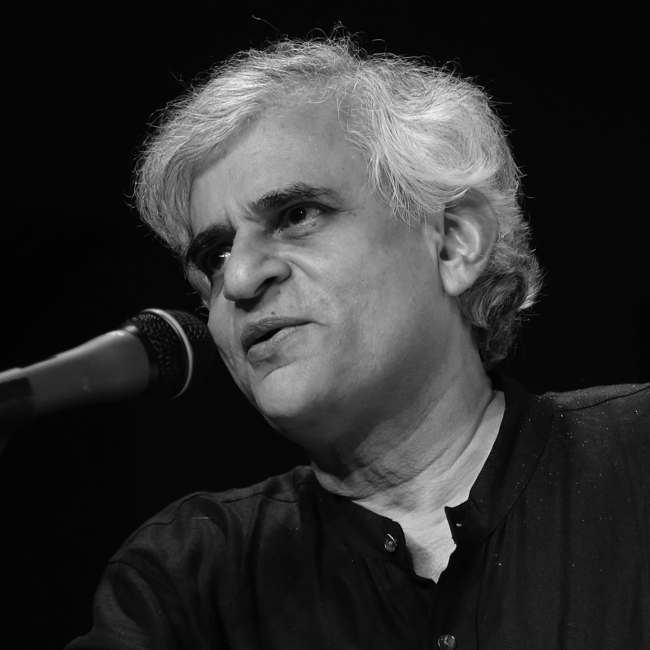 Mr. Sainath, one of India's leading journalists, is committed to shedding light on marginalized people living in rural areas, and to bettering their condition through his reportage. He was the winner of the Ramon Magsaysay Award in 2007, for Journalism Literature and Creative Communications Arts, and also the first reporter in the world to win Amnesty International's Global Human Rights Journalism Prize, in 2000. His writings include Everybody Loves a Good Drought: Stories from India's Poorest Districts (Penguin, 1996), a non-fiction bestseller declared a Penguin Classic in 2012. His latest project, the People's Archive of Rural India (PARI) launched in 2014, is a platform that seeks to document every corner of an Indian village. For over 20 years, he has spent on average three-fourths of the year with village people, covering urgent issues such as the agrarian crisis afflicting India's peasantry.
Speakers
Saree Aongsomwang (Thailand)
Secretary General of the Foundation for Consumers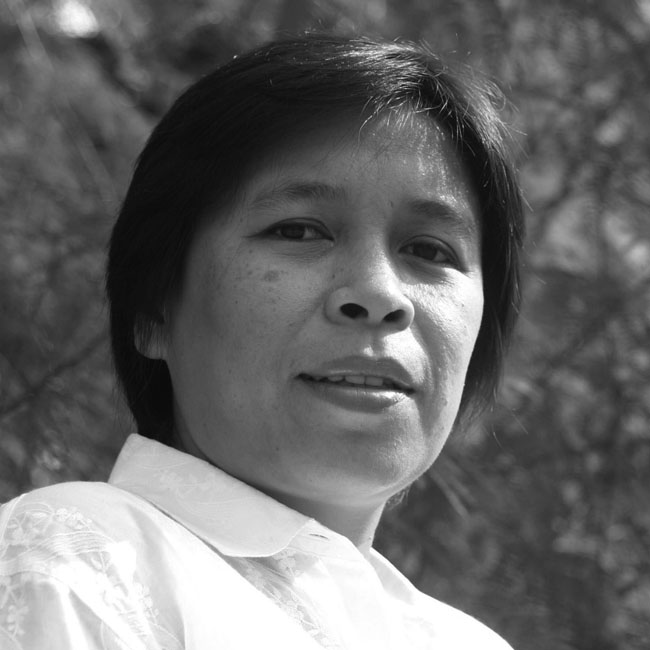 Ms. Aongsomwang is widely acknowledged as a leading consumer activist in Thailand, Southeast Asia and the ASEAN community, working extensively for people's movements in consumer protection, consumer's rights and consumer education. In 1994, she co-founded the Foundation for Consumers (FFC) and has ever since helped gather the country's consumers into a broad and powerful network. Throughout her career, she has contributed to strengthening the consumer movement in Thailand, such as ending the privatization plans of the Electricity Generating Authority of Thailand (EGAT), and the creation of networks to push legislation for the universal coverage in the health care services law.
Chito Gascon (the Philippines)
Chairperson, Commission on Human Rights of the Philippines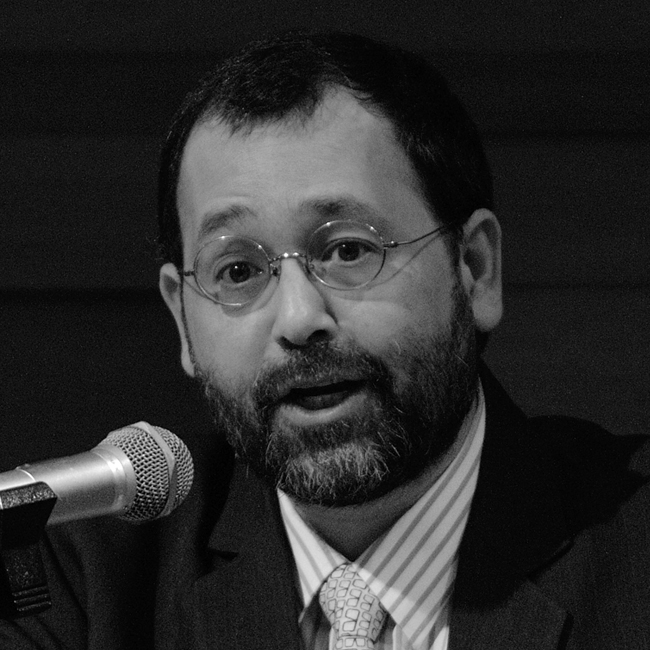 Mr. Gascon is a lawyer, political activist and social reformer committed to working for human rights and democracy. In the 1980s, he participated in the "People Power Revolution" as a fighter and served as a member to draft the Philippine Constitution in 1986. He was the principal author of legislation that institutionalized youth participation in local governance and that introduced special protection measures for children from all forms of abuse. From 2001 to 2004, he served as a member of the government's negotiating panel in peace talks with the National Democratic Front. He has also held several senior positions in government, including Undersecretary at the Office of the President (2011–2014).
Moderator
Imata Katsuji
Vice Chairperson, Japan NPO Center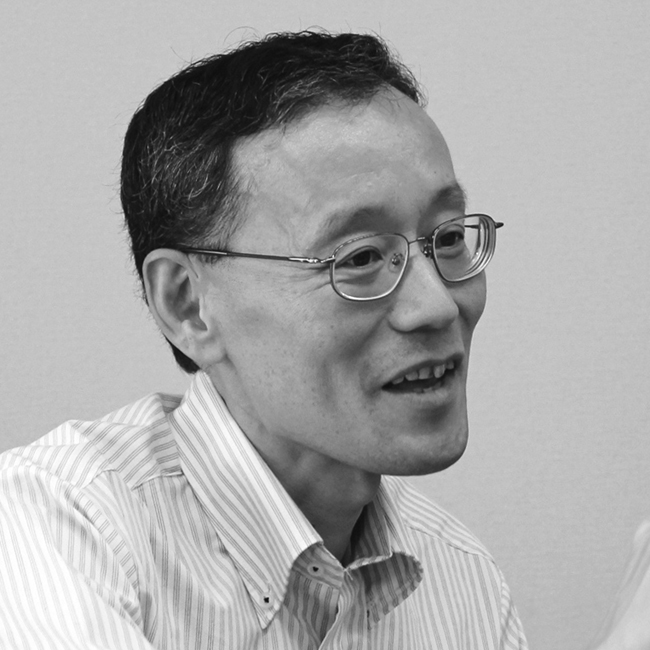 Mr. Imata has worked extensively for the development of civil society and engaged in the management of international nonprofit organizations in Japan and overseas for over 20 years. In 1996, he founded Japan-US Community Education and Exchange (JUCEE) in Oakland, California, and from 2000 to 2007, he worked for CSO Network Japan (for which he is presently the Board Chair). Prior to joining the Japan NPO Center in 2014, he was with the senior management of CIVICUS: World Alliance for Citizen Participation, based in Johannesburg, South Africa, with a commitment to strengthening citizen action to build a more just and equitable world.